One of the most important decisions to make when looking around at new discs is which plastic mold you are going to get. Each disc golf brand has its own unique plastics with different levels of durability, grip, and stiffness.
To help you find the perfect plastic for your needs, I put together this list that covers every Latitude 64 plastic, as well as the benefits and when you should consider trying each one out.
Each plastic option below will also show the durability, grip, and stiffness stats so that it's easy to compare each one!
Comparison of Latitude 64 Plastics
| | |
| --- | --- |
| Plastic | Grade |
| Grand | Royal |
| Sense | Royal |
| Opto | Premium |
| Gold | Premium |
| Recycled | Premium |
| Zero | Putter |
| Retro | Starter |
Grand
The most durable and grippy plastic designed with the Latitude 64 NexEdge and NexFeel technologies.
MSRP – $24.99
The Grand plastic is the most premium plastic from Latitude 64 and is one of their two Royal plastics. It's extremely durable and has plenty of grip and comfort built into the rim.
By using their NexEdge and NexFeel design, this plastic has a softer rim that's less sharp and will be easier to generate more spin and have a clean release.
Grand plastic is stiffer than the other molds, although it does perform well in all different weather conditions.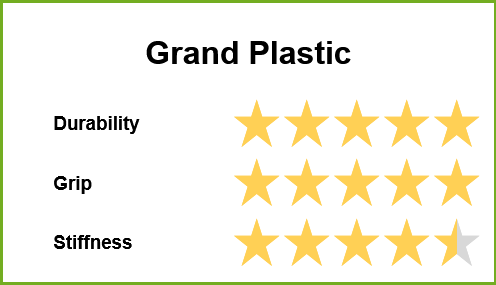 Benefits of Grand Plastic:
It's the most durable and grippy plastic produced by Latitude 64.
Since it's part of the Royal plastic line it has a softer feel and is less sharp on the bottom and outer part of the rim.
Sense
Increase durability and consistency with more comfort and grip.
MSRP – $14.90
The Sense plastic is the second plastic from Latitude 64 that is considered part of their Royal plastic line. Unlike the Royal Grand plastic, the Royal Sense material is designed for putters and slower discs.
Putters made with Sense plastic have a lot of grip and a sturdy feel which leads to a comfortable feel in the hand. All of these benefits combined make for a nice feeling plastic that helps with touch shots, short approaches, and putting.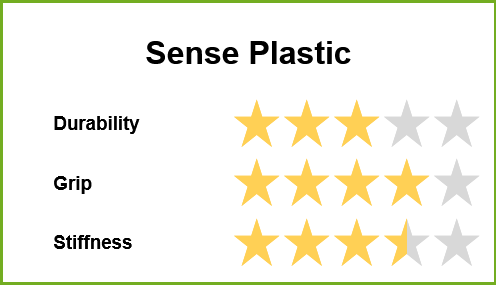 Benefits of Sense Plastic:
Increased grip and comfort for your slow-moving putters.
The added comfort makes it easier for clean releases and approach shots towards the basket.
Opto
Maximum durability, consistent flights, and more available disc colors.
MSRP – $17.90
The Latitude 64 Opto plastic is considered one of their Premium plastics,and is one of the more readily available molds these days. You can find everything from putters, to midranges, to distance drivers manufactured in this plastic type.
Opto plastic is extremely durable and stiff, although it does offer less grip compared to the Grand and Gold plastics. One of my favorite things about the Opto line is that they have awesome looking translucent colors and designs on the discs. The plastic is also stiff enough to withstand high winds and a large range of temperatures and weather conditions.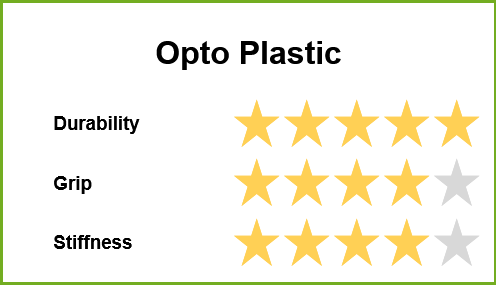 Benefits of Opto Plastic:
The most long-lasting plastic that can withstand hitting terrain and rough conditions on the course.
Opto plastic offers plenty of unique and interesting looking designs and colors.
Opto-X
Less grip but a more stiff feel compared to the original Opto plastic.
MSRP – $17.90
The Opto-X plastic has the same great durability level as the original Opto but is stiff and less grippy overall. It's still considered a premium plastic so the cost is around the same as you can expect discs made in this plastic to last for a long time.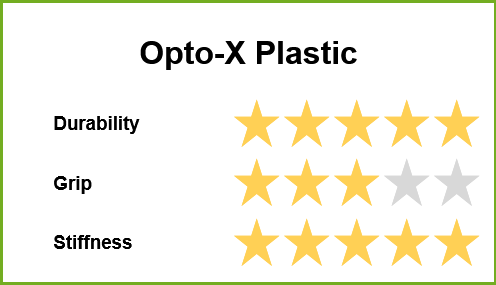 Benefits of Opto-X Plastic:
Durability levels that are the same as the Opto premium plastic.
A stiff feel that translates to more overstable flights compared to the original Opto plastic line.
Opto-Ice
Similar to the Opto line but it has a stiffness level that falls between Opto and Opto-X plastic.
MSRP – $17.90
The biggest difference between the Opto plastic and the Opto-Ice plastic is that this mold is slightly stiffer in comparison. It has the same long-lasting features and enough grip that you'll have no problem getting clean releases on your throws.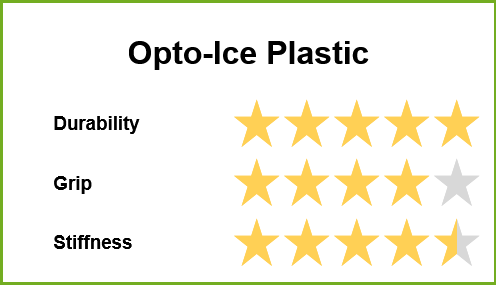 Benefits of Opto-Ice Plastic:
The same benefits of the Opto plastic with a stiffer feel and discs that tend to be more overstable when brand new.
Gold
High level of durability, grip, feel, and flight lifespan.
MSRP – $19.90
The Gold plastic from Latitude 64 is another one of their premium plastics offered. It's extremely similar to the Opto plastic line, but with much more grip and feel.
With a different polymer added to the base Opto plastic, Gold plastic keeps the same high level of durability but feels very comfortable with a lot of grip.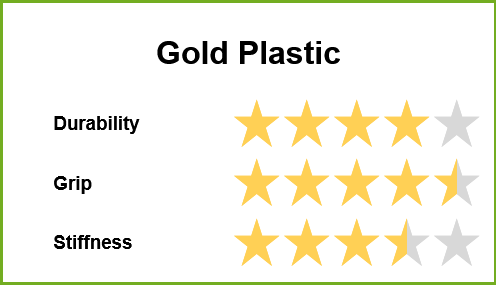 Benefits of Gold Plastic:
Maximum durability, grip, and comfort on all of your favorite Latitude 64 discs.
This plastic makes silky and unique looking discs that most players love to throw.
Gold-X
This plastic is stiffer and has more durability than the original Gold plastic.
MSRP – $19.90
The Latitude 64 Gold-X plastic is another premium plastic that has a stiff feel but more overall durability than the Gold line. Like many of the other plastic alterations, this plastic is naturally more overstable and leads to more overstable throws and drives.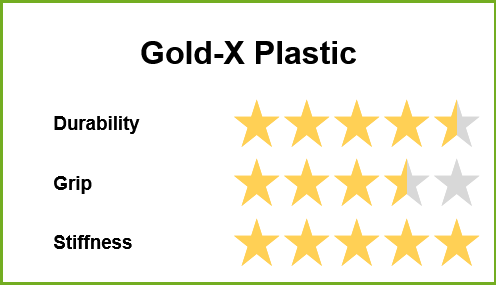 Benefits of Gold-X Plastic:
More durability than Gold plastic while also having a stiffer feel for great drives.
Gold-Ice
Similar flights but is more overstable and has a stiffness level that falls in between Gold and Gold-X plastics.
MSRP – $19.90
This plastic has a pretty balanced feel between durability, grip, and stiffness. Compared to the first release Gold plastic, Gold-Ice has more durability, the same grip, and is stiffer throughout the entire disc.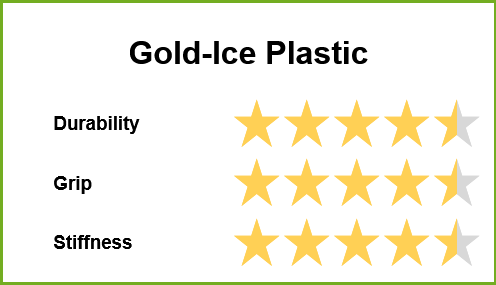 Benefits of Gold-Ice Plastic:
Premium plastic that offers a level of stiffness in between Gold and Gold-X plastic.
You can expect flights that are overstable with Gold-Ice.
Recycled
Less stable plastic that's made from reprocessed materials of the Opto and Gold line.
MSRP – $15.90
When plastic doesn't meet the high quality standards and checks for the Opto and Gold line, it becomes repurposed and used in the Recycled plastic.
This process makes the plastic less stable than Opto and Gold, and they also break in and wear down slightly faster.
Using these materials instead of discarding them helps reduce the negative effect of creating discs and allows for a cheaper but similar plastic to the Latitude 64 premium lines.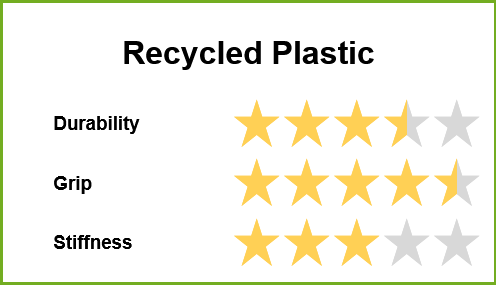 Benefits of Recycled Plastic:
It's more budget-friendly and still similar to the premium plastics like Gold and Opto.
Discs made from recycled plastic are less stable and break in much quicker.
Opto Moonshine
Same characteristics as the Opto line with translucent material to be glow-in-the-dark.
MSRP – $17.90
It's not available for every disc, but the Opto Moonshine is very interesting since it adds a translucent material to the plastic for a glow-in-the-dark effect. If you've never seen these types of discs, they're perfect for playing late night rounds or even disc golf at night if you really want to.
It has the same properties as the original Opto plastic, but is a bit less durable through use.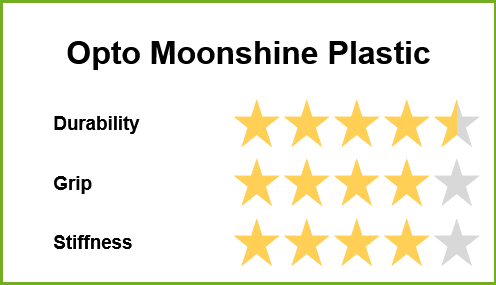 Benefits of Opto Moonshine Plastic:
Provides glow-in-the-dark features for exciting and new late night rounds on the course.
Opto Air
The same materials as Opto plastic but with features to be more lightweight.
MSRP – $17.90
If you enjoy the feel and comfort of the Opto plastic but want a lighter option, the Opto Air plastic is perfect for you. It has the exact same materials but has been modified so that it produces lightweight discs with the same benefits.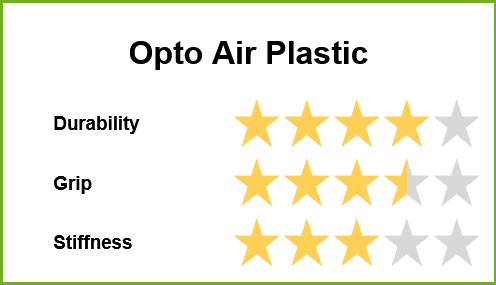 Benefits of Opto Air Plastic:
These discs are similar to premium Opto plastic but are lightweight and won't last quite as long before their flights start to change.
Zero Medium
A grippy and soft plastic that's used for putters and approach discs.
MSRP – $12.90
Latitude 64 Zero plastic is the perfect option for putters and slower discs since it's extremely grippy and catches in the chains really well.
There are three total molds of Zero plastic, all with different levels of grip and stiffness. Having different options for how stiff the disc is will help every disc golfer find the perfect feel for their putter.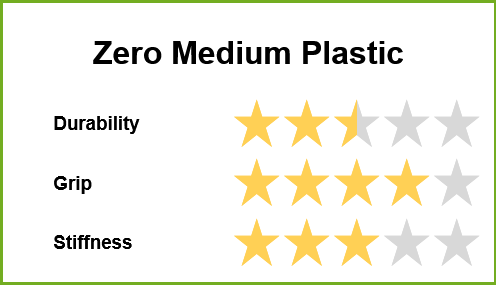 Benefits of Zero Medium Plastic:
Has an insane amount of grip and has a high rate of catching in the basket chains.
There are three different levels of Zero plastic which all have different amounts of stiffness.
Zero Soft
More grip but less durability compared to the Zero Medium plastic.
MSRP – $12.90
Zero Soft is another option for Putter plastics and has a very soft feel that comes with a ton of grip. These discs are perfect for catching the chains and staying in the basket and performing well no matter the weather conditions.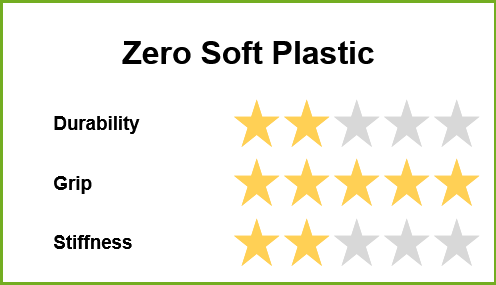 Benefits of Zero Soft Plastic:
The best plastic for catching in the chains and reducing your total spit-outs within the circle.
It has a soft and grippy feel that makes gripping and throwing it consistent and easy.
Zero Hard
Less grip but a stiffer feel compared to the Zero and Zero Soft plastics.
MSRP – $12.90
The last putter plastic from Latitude 64, the Zero Hard plastic has much less grip and has a stiffer feel in the hand. Some players prefer a harder putter, so it really comes down to preference on what feels good for you when putting.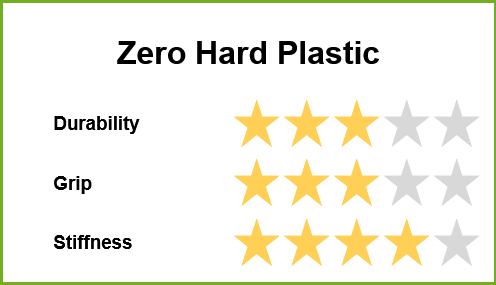 Benefits of Zero Hard Plastic:
These discs are slightly more durable and stiff than the normal Zero plastic.
It finishes off a nice range of options for disc golf putters and how they feel when putting.
Retro
Designed to be budget-friendly with a lot of grip and easy for beginners to control.
MSRP – $11.90
Retro plastic is very beginner-friendly and makes it easy for disc golfers of all skill levels to throw and control. It has great grip and doesn't take many rounds to break in.
This plastic is the most affordable line from Latitude 64, and it's one of the better options for your first disc. If I'm not sure I'll like a new disc, I'll get the Retro version to try out before upgrading to the more premium and long-lasting plastics.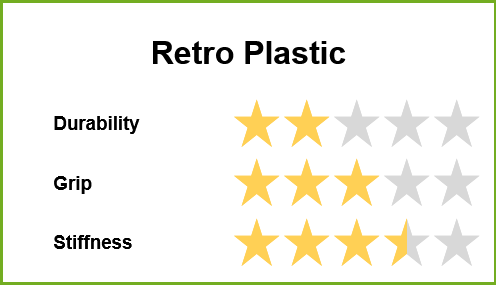 Benefits of Retro Plastic:
The most affordable and beginner-friendly plastics that you can get.
With Retro, your disc won't take as many throws to break in.