Finding the perfect disc and plastic combination can be a difficult task, especially with how many available options there are. The Dynamic Discs brand by itself has over 10 different plastics and combinations that each have their own benefits.
To help you better understand the pros and cons of each option, I put together a list of every Dynamic Discs plastic.
The rest of this guide will cover the uses, benefits, stability, and durability of each plastic!

Comparison of Dynamic Discs Plastics
| | |
| --- | --- |
| Plastic | Grade |
| Moonshine | Glow |
| Prime | Base |
| Fuzion | Premium |
| Lucid | Durable |
| Lucid Air | Durable Light |
| Fluid | Premium Gummy |
| BioFuzion | Recycled |
| Classic | Hard Premium Base |
| Classic Soft | Soft Premium Base |
| Classic Blend | Premium Base |
Moonshine
Glow in the dark option with the same benefits and durability as the Lucid plastic.
MSRP – $20.99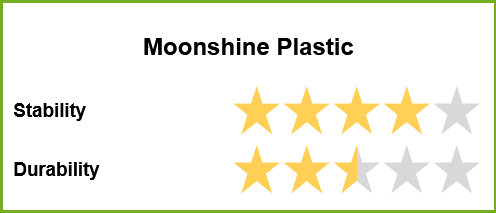 Moonshine plastic is the exact same as the Lucid mold, with the advantage of being glow in the dark for those fun late-night rounds! It's the most durable plastic from Dynamic Discs, which is why most distance drivers have this plastic as an option. It's designed to keep the flight characteristics for longer and can withstand most risks like hitting trees or obstacles on the course.
Compared to Lucid, it is slightly more overstable, although it doesn't make a massive difference when throwing high-speed discs.
Benefits of Moonshine Plastic:
The most durable plastic mold from Dynamic Discs, lasting for plenty of rounds without any changing flight characteristics.
It has glow in the dark features that are useful for night rounds and glow rounds on the course.
Prime
Increased feel and grip provide an affordable option that's comfortable and consistent.
MSRP – $10.99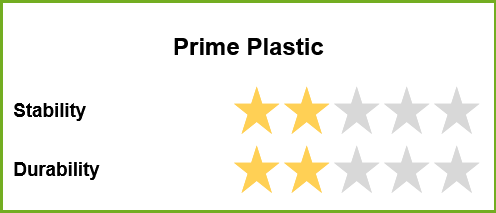 Prime plastic is the most affordable option manufactured by Dynamic Discs. It's less durable and won't last for as many rounds, which is why many disc golfers choose this plastic for their putters.
Besides being affordable, Prime plastic is designed to feel comfortable and offer a lot of grip in all weather conditions. Not every plastic feels great in every condition, but it doesn't matter whether it's hot or cold, the Prime material gives the same great grip.
If you're looking to try out a disc without spending a fortune, Prime plastic offers you the best deal to try, and you could always upgrade the plastic if you enjoy using the disc!
Benefits of Prime Plastic:
The most affordable plastic that's offered, is great for putters that won't be getting beat up by trees or the ground.
It comes with an excellent grip and comfort so that you can use it every round.
Fuzion
Has the same benefits and durability level as the Lucid plastic, but has additional polymers to be non-transparent.
MSRP – $18.99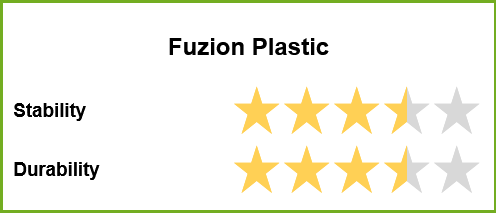 Fuzion plastic is comparable to the Lucid mold in terms of durability and how long it maintains the same flight path. The main difference is that it's non-transparent and also comes with additional grip which can be extremely useful in disc golf.
Benefits of Fuzion Plastic:
It's as durable as the Lucid plastic with the additional benefit of being non-transparent.
There's more grip in this plastic blend, although it's not as strong as other plastics.
Lucid
Extremely durable with beautiful and translucent designs and stamps.
MSRP – $18.99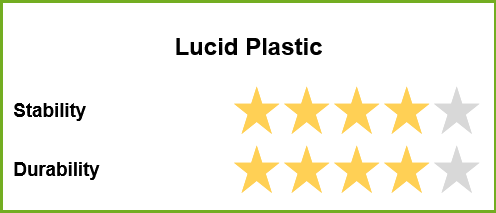 Besides having some of the most unique and interesting looks, the Lucid plastic blend is the most durable and long-lasting option from Dynamic Discs. Most of their drivers are created in Lucid plastic since they're the most likely disc to get beat up while throwing on the course.
It does cost a bit more than their basic plastic, but it's definitely worth it since you won't have to deal with it breaking down and changing characteristics too quickly.
Benefits of Lucid Plastic:
It's the most durable blend from Dynamic Discs and isn't likely to become damaged or destroyed when hitting objects.
Discs created with Lucid plastic are more overstable compared to the popular Fuzion plastic.
Lucid Air
Designed with the same basic material as Lucid, but has microbubbles that make a lighter disc.
MSRP – $18.99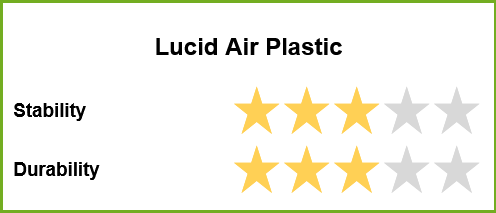 If you enjoy throwing Lucid discs but want something a little bit lighter, the Lucid Air plastic is the perfect option to try. Even though Lucid Air doesn't weigh as much, it's just as durable as any Lucid blended disc.
Some disc golfers might worry about the feel of this plastic, but the design features hard plastic on the top and bottom of the rim to keep the same great grip. The rest of the plastic features microbubbles that are evenly spread out on the top of the disc and in the middle section of the rim.
Benefits of Lucid Air Plastic:
These discs are lightweight and are useful for newer players or any players who want more options for throwing.
It's just as durable as the Lucid plastic which is known to be the most durable plastic blend offered by Dynamic Discs.
Fluid
High flexibility that gives superb grip in colder weather and more flex during the warmer months.
MSRP – $18.99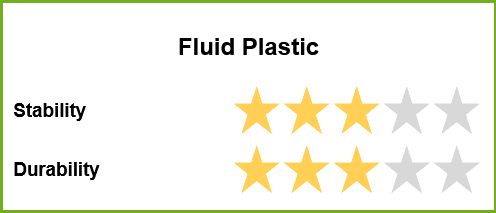 The Fluid plastic is much more flexible compared to every other blend that these discs are made from. In the normal playing conditions during most of the year, this plastic is slightly understable with a lot of grip.
During the colder months, this blend will keep the same flexibility that other premium plastics won't. The increased flex helps with control and grip in cold weather where grip is usually hard to come by.
Benefits of Fluid Plastic:
Extremely flexible and great for flex shots from more experienced players.
Has the same consistency and reliability that you're used to from Dynamic Discs plastics.
BioFuzion
Created when Lucid or Fuzion discs don't meet their standards to help reduce waste and be more sustainable for the environment.
MSRP – $16.99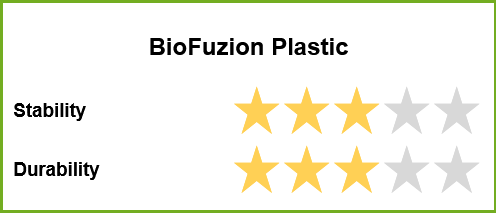 The BioFuzion plastic is interesting since it's not actually a planned production. When there are defects in the production of Lucid and Fuzion plastic, they get melted down and then recreated in BioFuzion plastic to help reduce waste.
Discs made with this plastic have similar characteristics and durability that you would expect from the Lucid line.
Benefits of BioFuzion Plastic:
These discs are environment-friendly and help to lower the carbon footprint of Dynamic Discs production.
They have the same great durability and grip that you would get from either the Fuzion or Lucid plastics.
Classic
The first plastic created by Dynamic Discs that's firm and provides great grip in any condition on the course.
MSRP – $13.99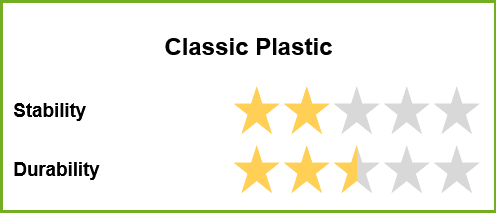 It's been around as long as they've been creating discs, the Classic plastic is known for being firm and having an exceptional grip. Unlike some other plastic blends, the excellent grip lasts no matter if there are hot, cold, wet, or dry conditions on the course for that day.
Many of the beginner discs from Dynamic Discs are created using Classic plastic since it's affordable and easy to throw and control for any player.
Benefits of Classic Plastic:
It's a very affordable plastic that still gives you great grip and comfort on your throws.
Disc golfers of all skill levels should have no issues learning to throw and maneuver these discs out on the course.
Classic Soft
Featuring the same grip as Classic but with more flexibility and the ability to catch easily in the chains.
MSRP – $13.99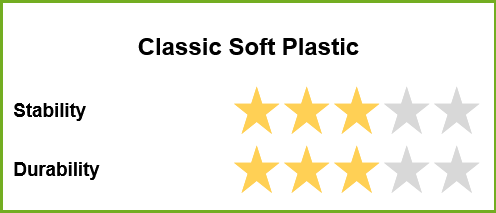 The Classic Soft plastic was designed to keep the same level of grip as the original Classic blend, but with a higher chance of staying in the basket. With a softer feel, it's harder to generate as much power, but it does much better when being thrown into the chains for putts and longer approach shots.
Benefits of Classic Soft Plastic:
It's a great plastic option for putters since it's designed to be thrown and caught by the chains in the basket.
Even though it's less firm, this soft plastic is still comfortable and has a lot of grip.
Classic Blend
The same features of Classic and Classic Soft with great comfort and the ability to stay in the basket and chains.
MSRP – $13.99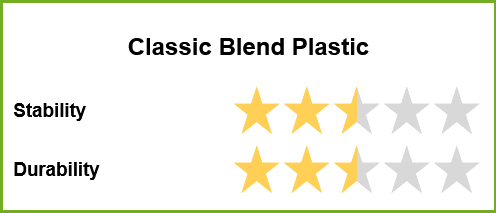 Just like the name suggests, the Classic Blend line is a blend and combination of the original Classic and Classic Soft plastics. Since they're combined into one plastic, you can expect the same levels of grip, comfort, durability, and flight.
Benefits of Classic Blend Plastic:
Has the same great benefits as the Classic and Classic Soft plastics.
An affordable plastic option that's a good mix of being durable enough to throw while also being soft enough to catch in the chains.